Road stud of Siam Traffic Co.,Ltd. is used for dividing the road boundary, for safety, reducing the accidents, made from aluminium alloy attached with the reflective sheet made from the acrylic plastic sheet. This acrylic is a reflective prism glass style and available 1 or 2 sides on road stud. In addition, there will be thin layer of the coated glass in order to enhance the reflection index during night time. There are 3 colors which are white, yellow and red colors.
Road Stud: HighWay
Features of road stud
High brightness and clearness.
Tough, not easy to break, can tolerate maximum 40 tons of truck weight.
Last long application and endure for all climate circumstances.
Surface is endure to the corrosion, and can be self-cleaning.
Remain its reflective index through whole application life.
Size : 100 x 100 x 25 mm.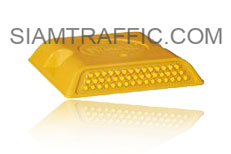 Siam Traffic Co.,Ltd. also provide road stud of Swarflex which imported from Austria. The yellow stud body is made from ABS plastic, which providing 2 sides of reflective bands of ruby-grains type that can give clear brightness. The size of this is 100 x 100 x 17.9 mm. There are 45 ruby grains on each side.

Road stud and glass road stud clients