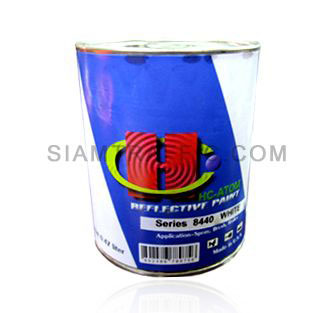 HC ATOM is a high quality reflective paint, available in two colors are white and bronze. Net weight is 1 pound(0.47 lite), made in U.S.A.
Feature



High reflective

Durability excellent

Acid and Alkali resistance


Water resistance
Where to use



HC Atom Reflective Paint is the ideal finish designed to protection and long lasting reflective to interior or exterior on concrete. HC Atom will not peel flake or fade like paint. Its is highly resistance to salt, acids alkali, water UV rays and abrasion.
Tool required
Preparation
All surface must be clean, dry and free of grease oil.
When to apply



Apply under dry conditions only. Do not apply if rain is expected within 12 hours following application air and surface temperature should be between 50° and 90° F for 24 hours.
Application



Stir thoroughly before and during application. A minimum of two coats is recommended. A third coat may be necessary to ensure uniformity, depending upon the

prosperity

of the surface, apply with brush or roller.
Drying time



To touch 30 minutes.

Foot traffic 1-2 hours.

Light traffic or Recoat 5-6 hours.


Heavy traffic 48 hours.
Coverage



100 square feet per gallon.
Clean-up



Clean tools with thinner.