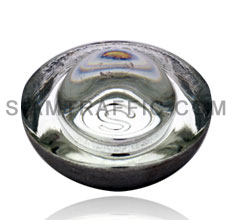 Glass road stud is used for determining the boundary or alignment of the road, which shall enhance the safety for vehicles users during night. Solar road stud is suitable to be visualized in any kind of climates. The glass road stud body is a 100 mm. diameter sphere. As a result, it shall reflect the light for 360° irrespective the direction from which the vehicles are arriving. There are 3 colors available, which are white, yellow and blue.
Moreover, there is also the 360° reflective glass road stud which providing the LED bulb inside, by using the solar cell power.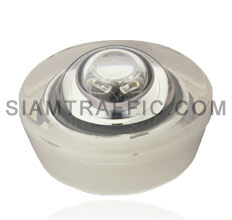 This is specially suited for the visibility of any vehicle riders in all climate circumstances (day time, night time, and variant climates). From the special characteristic of this LED Super Bridge Light that can better generate remarkable and clear light compared to the ordinary reflective glass road stud that only reflects from vehicles' headlight resulting in low visibility distance which is less than that from LED Super Bright Light for almost 12 times. In addition, the line of reflected light will be limited only equal to the vehicle's headlight distance. This will be different to LED Super Bright Light which providing light through the lens around the bulb cover and distributed to the exterior reflective cover instead. As a result, the visibility distance can be extended up to 300 meter or longer. The energy generation system for this reflective glass road stud has utilized the latest technology of solar film system to replace the existing system which occupying larger size and heavier weight while gives very small amount of energy. This is totally different from the solar film system which is become much smaller size and lighter weight, and exhibit the energy/area ratio much higher that that of the original ones for almost 180%, at the similar area. From these constituents, the solar cell powered reflective glass road studs have been taken off widely in various applications in the format of Stand Alone Active Safety such as, warning light or aligning of the road, rail junction, bridge, road island, etc. The overall system has been designed for operation in both day time and night time including an automatic operation by collecting energy in day time to be continuously used during night time for 12-16 hours.
Solar cell powered 360° reflective glass road stud which has LEDs
General qualification of the solar cell powered 360° reflective glass road stud
Made from PC type plastic (Poly-Carbonate)
Maximum load capacity : 25 tons
Solar cell set with rechargeable battery
Red color LED bulb, Super Bright Light type for 4 bulbs
Duration of energy recharge 8 hours/day
Duration of light flashing 14-16 hours
Operation life time 3-5 years
Easy and fast installation
Frequency of light flashing : 40 times/minute
1.2 Volt Ni-Mh battery
Give the solar energy 0.35 Watts
Height : 20 mm. (after installation)
New model!! made from glass with high visibility