Anti slip tape
Anti slip tape used to adhesive the stair or floor to anti slip.
White non slip tape model is fluorescent. Normally used for fire exit stairs.
5 centimeter width and 2.5 meter length.
Available in black, yellow, black alternate yellow, and white (fluorescent).
ANTI SLIP TAPE : NON SLIP PLATE OVERLAY WITH FLUORESCENT FILM
Kiwalite Anti-skid Film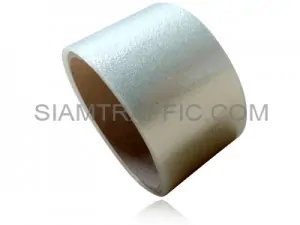 Decoration and advertisement meet floor safety.
Kiwacal "Anti-skid Film" works on slippery floor surface of outdoor or indoor where applied on. The transparency keeps substrate decoration and advertisement vivid.
Best for sale and effective floor advertisement.
Transparent glass beads give anti-skid function and do not spoil substrate decoration.
Blocks UV ray and protects substrate from fading.
Suitable for long-term outdoor use with high weathering durability and dimensional stability.

51

mm.

long,

2.5

m.

wide.
Use application : overlamination for floor advertisement, floor surface of factory and warehouse, etc., steps of ladder and stairs, etc.
Kiwalite Fluorescent Film
Features and Applications : Strong eye-catching effect, excellent outdoor durability, printability, Daytime warning signs, advertising stickers.
Kiwalite Fluorescent Film
Physical Properties
1. Thickness
Film
140 microns
Glue
300 microns
2. Adhesion
not less than 0.8 kgf/cm
3. Shrinkage
not more than 0.9 mm.
4. Elongation
not less than 50%
5. Tensile Strength
not less than 2.5 kgf/cm
Color code number
Code
Color
Preview
Size
FL-405
Yellow Lemon
Wide 49 mm.
Length 5 m.
FL-504
Orange
FL-702
Green