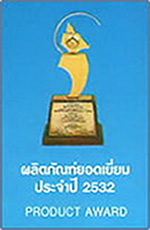 Siam Traffic Co., Ltd. is a Thai leading manufacturer of traffic products. Established in 1985, Siam Traffic started business by producing only traffic signs from a small factory in Bangkok, Thailand. As we operated for a few years, we realized that we had an opportunity to server a variety of safety products for the industry. The company has constantly manufactured the full array of traffic products and services for over two decades. We are proud to serve many governmental departments and private companies.

We, with our expertise and long experience, always maintain high quality of merchandises and services. We generally serve traffic signs, guardrails, and traffic road marking services. Forty percent of our transaction are deal with government departments, such as, Department of Highway(DOH) of Thailand, Traffic police, Town Municipalities, and Sub district Administration Organizations. We also contribute to Expressway and Rapid Transit Authority of Thailand(ETA) which is the state enterprise responsible for all expressway around Bangkok metropolis. For private sectors, we often supply for Bangkok Expressway Public Company Limited (BECL), and Don Muang Tollway Public Company Limited. Besides, most construction companies and property development agencies are one of our regular customers.
According to our highest quality, we are extensively accredited by a great deal of clients including Best Product Award in safety equipment from Ministry of Transport in 1989. Not only do we keep up our effective production, but also we have outstanding services. As we provide a great number of products, our inventory management must cooperate with suppliers consistently. One of our acclaims is to retain on-time delivery and maximize customer satisfaction. These are the company's competitive advantages in which we strongly believe that we are over other competitors.
To assure the prospective customers, Siam Traffic's management system is certified by ISO 9001. This value inspires us the way we server our clients and enhance our business strategies.