Traffic paint used for spraying or painting to the roadway side, on the concrete pavement in order to divide the traffic lanes. It can be used by using paint brush, paint roller or sprayer to make the marks on any required area without mixing with other solvents. Traffic paint " High-Way" of Siam Traffic Co., Ltd. has been guaranteed by Industrial Standard TIS. 415-2541. Available 4 colors as white, yellow, red and black in order to be chosen as appropriateness. The quality of traffic paint "High-Way" is durable for any climates whether sunshine or raining, and for any circumstances.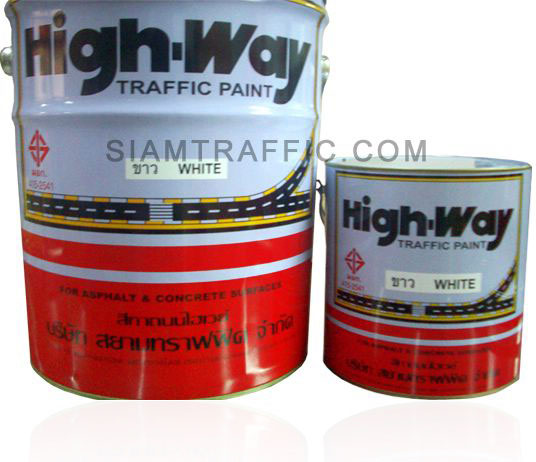 Traffic Paint contained in the tanks, there are 2 sizes which are 1 gallons (3.785 liters) and 5 gallons (18.925 liters)
In addition, the company also service painting or spraying the traffic paint for your organization for tidiness of the traffic work. We can make the road's sideways painting in the forms of white alternated with red, white alternated with black, or yellow alternated with black. We also service paint the road pavement for making the parking lots.