Manufactured from particular rubber processed by special molding methods, Rubber Speed Bump will be replacement of concrete speed bump. It is very quick to install or remove and users can reinstall when needed. Despite of black materials, the Bumps are attached with glass reflective element which is clearly seen in night time. Our innovative products are highly recommended for residence area and parking lots.
Reflective element

Yellow rubber

Yellow and black rubber
Rubber Speed Hump size is 40 cm. width, 50 cm. length and high 5.5 cm.
Easy to install and suitable for parking lots, department store, condominium, or factory for safety from fast driving.
Rubber Speed Hump
New Rubber Speed Bump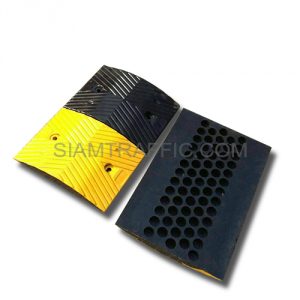 Middle Length : 490 mm.
End cap Length : 160 mm.
Width : 335 mm.
Height : 46 mm.
Weight : 5.4 kg.
Lifespan : About 1 years
Packaging Detail : 4 PCS/bag
Rubber speed hump characteristics:
Specialized designed, notable decelerate effect, without noise and uncomfortable feeling.
High intensity rubber, firm and useful, good anti-impact ability.
Set up flexibly according the request of the customer, convenient installment.
Black and yellow, affect in day and night, attack the attention of the drivers to decelerate successfully.
Widely used, one of the newest traffic safe productions, a good helper of the manage.
New rubber speed bump usage:
Mainly used for city intersection, highroad crossing, toll gate, garden, village, parking lot and gas station, etc.
Rubber speed bump clients